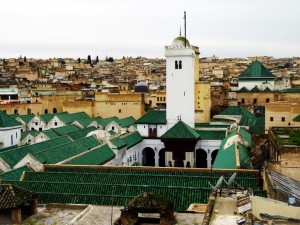 Day 1 –  Fez – Atlas Mountains-Ziz Valley-Sijilmassa -Morocco Desert -Merzouga
After breakfast, you head off to Tafilalet, well-known for  its Ksours and Kasbahs, through Middle Atlas Mountains and Ziz Palm's Oasis you will reach Sijilmassa's ruins, where you will have a typical  lunch with a special food made locally (Medfouna or Berber-Pizza), then taking the road  to Sahara Desert Morocco by a luxury 4*4 . Moreover you will be greeted with a glass of tea and have time to wander the dunes before the sunset
Dinner, Berber music show and overnight at Morocco Desert Luxury Camp.
Day 2 – Morocco Desert- Rissani – Cedar's Forest- Ifrane – Fes
In this second day, you will explore Sahara Desert Morocco and marvels of  the Erg Chebbi  dunes with our local expert-guide,  you will have the opportunity to discover the nomad's way of life and the amazing landscapes in Morocco desert, you will visit the black-village of Khamlia to meet  the  musicians of Gnawa music-style.
Afterwards you take the road to discover the mystery side of Rissani, with its shadowy lanes and artisans' quarters where woodcarving, ironmongery, and silver-smithing are practiced according to traditional methods. Also discovering its fabulous old Kasbahs, magical palaces and authentic museums
After having lunch, our knowledgeable tour guide will take to visit and find out about the history of fossils and naturals rocks sculpture in this area.
Via the Azrou's Cedars forest, continue through Ifrane you will reach the spiritual capital on time.