Highlights of Morocco: Casablanca to Essaouira
Morocco, with its famous medieval mosques and Kasbahs, is truly the jewel of North Africa and exudes a sense of living, it is considered as a fascinating destination and the jewel of north Africa , set amid the backdrop of the gorgeous Atlas mountains and the shimmering Atlantic ocean, features reminders and remains of numerous cultures and civilisations. Venture off the beaten track to Sahara Desert Morocco and Rif mountains , visiting the most renowned historical sites in Morocco .

Day 1: Arrive in Casablanca & Transfer to Rabat
You'll then venture north to the imperial city and present-day capital of Rabat, a bustling metropolis with a rich history and several worthwhile sights. Explore the medieval fortification of the Chellah Necropolis in the heart of Rabat and wander the Roman and Islamic ruins. Step back in time to Rabat's original city center and enter through the grand door of the Kasbah des Oudaias. Mostly a residential area today, quietly wander the peaceful white and blue-washed streets.
From there, visit the 20th-century Andalusian Gardens and enjoy the serene space away from the crowds. Discover the Hassan Tower, a minaret of the incomplete mosque and Mausoleum of Mohamed V. This project was abandoned in the 12th-century, and all that remains today are 200 columns and the red sandstone tower, which stands at 145 feet (44 m).Dinner and overnight at your Riad /Hotel in Rabat.
Day 2 – From Rabat To Chefchaouen
The next day, enjoy a comfortable private transfer from Rabat to Chefchaouen. After settling into your accommodation, head out to explore. Wander through the city's medina and its winding maze of picturesque streets while appreciating the relaxed atmosphere. The old medina has combined Moroccan and Andalusian influences noted in the red-tiled roofs, bright blue buildings, and narrow lanes connecting busy Plaza Uta el-Hammam and its restored kasbah (old fortification).
Once you've had a look around the plaza and perused the nearby souks, head toward the Grand Mosque and kasbah, where you can enjoy walking through the garden, museum, and some of the old prison cells used during Spanish rule. Next, wander into the Quartier Al Andalous, where the houses are painted white, green, and blue. End your day at Ras El Ma Spring, the town's primary water source. Here you can take a break at one of the quaint riverside cafés for a traditional cup of tea. Enjoy a sunset from the Spanish Mosque for an exceptional view of the city.Dinner and overnight in Chefchaouen
Day 3 –  To Fes Via Meknes
Head off on a comfortable private transfer to Fes, making a few interesting stops. First, wander through the massive Roman complex at Volubilis, exploring large merchant homes with visible heating systems, temples, and colorful mosaics. Next, continue to Meknes, the imperial city of Sultan Moulay Ismail, and stroll through its compact medina. Other than the city's scattered souks, you can also see Marinid-era architecture at the 14th-century Bou Inania Madrasa and the impressive 19th-century palace of Dar Jamaï.
Your final stop is Fes. Before settling into your traditional riad accommodation, drive up to the Marinid Tombs, a hilltop archeological site where you can enjoy a lovely panorama of the old city. On the hillside below, you may see leather drying in the sun. Then, make your way into the bustling medina and enjoy navigating Fes' charming streets. Finally, return to your riad for dinner and relaxation.Dinner and overnight in your Palace/Riad/Hotel.
Day 4 – Guided-Tour In Fes
Today, you'll discover the vibrant and fortified medina of Fes, the cultural capital of Morocco, with the help of a private tour guide. First, you'll pass through the Bab Boujloud (Blue Gate), a Moorish gate with three arches acting as the old town's main entrance, and wander into the bustling souk. Next, visit the famous Chouara Tannery and the 9th-century Al-Qarawiyyin Mosque and University, the world's oldest continuously operating university.
Stop at either Bou Inania Madrasa or Al Attarine Madrasa, two 14th-century schools featuring beautiful Marinid and Moroccan architecture and zellij tiles. Then, wander to some of the other sites of Fes, such as the Mellah (Jewish District and cemetery) and the Dar el Makhzen (Royal Palace of Fes). Or check out a museum, like the Borj Nord, which features a collection of weapons and armor from several eras and incredible roof-top views. When hungry, your guide will lead you to a local eatery to taste dishes such as couscous, shakshuka, makouda (spiced battered potato cakes), and slow-roasted méchoui lamb.Dinner and overnight in your Palace/ Riad / Hotel.

Day 5 – From Fes-City ToMerzouga via the Middle Atlas, Midelt & Erfoud
On the way to Merzouga, stop at a few cultural spots to meet the desert communities of the Sahara. You'll have the opportunity to chat with nomadic shepherds, stroll through settlements, and, if time allows, enjoy a cup of tea with a local Berber family. As you approach Merzouga, you'll see the sand waves of Erg Chebbi—an extensive set of dunes covering almost 14 square miles (35 sq km), with some peaks rising over 650 feet (200 m).
Upon arrival, take a short break as you prepare for a camel ride through the dunes. After settling into your tent, climb up the nearest dune to watch the sunset. Head back to camp for dinner and a night by the campfire, enjoying traditional Berber music and savoring the stars strewn across the unhindered night sky. If modern comfort is more your style, you can always opt for a comfortable hotel or auberge in town instead.Dinner and overnight in your Hotel/Riad.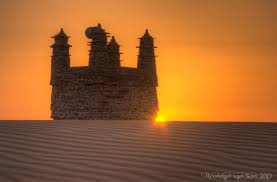 Day 6 – Desert Safari Adventures around Merzouga
Enjoy a drive through the dunes of Erg Chebbi by Jeep to discover the hidden secrets of the Sahara. Meet with the local nomads, have tea with a local family, then visit the Gnawa House in Khemliya village. Gnawa is a type of traditional spiritual music practiced throughout Morocco and originates from the sub-Saharan region. Popular maâlems (master musicians) are now bringing the genre to the mainstream. After Gnawa House, you can rent a sandboard and test your skills on the dunes before joining a quad ATV tour.
Day 7 – Morocco Desert – To Skoura Via Todra-Gorges
Today, you'll make your way to the town of Boumalne Dades via private transfer. Wake early to catch a spectacular desert sunrise in Merzouga before heading to Rissani. Spend some time observing the donkey "parking lot" and walking around the town's bustling market. Continue to Tinghir, where you'll find an ancient and colorful Jewish quarter and fantastic views of neighboring villages.
Your next stop is an impressive 984 feet (300 m) high gorge known as the Todra Gorge. You can enjoy a leisurely walk or relax in the cool shallow water. The surrounding area is known as the Valley of a Thousand Kasbahs—as you drive onward, you'll notice many kasbahs (defense fortresses) in disrepair. You'll then enter the Dades Valley, where cultivated farmland plots border fields of rose bushes. If you're here in May, you can catch the annual Rose Festival; at any other time of year, stop at the rose collective to watch the distillation process in action. Your final stop is your accommodation in the relaxing palm grove of Skoura.Dinner and overnight in a Berber- Kasbah
Day 8 –Walk in Skoura Oasis & Have Lunch with a Local Family
Immerse yourself in this southern oasis of Morocco as you enjoy an easy walking tour through a vast palm grove while interacting with local families. Explore the area on a one-hour guided walk, then head out to a few villages to meet with the locals. You'll admire the unique architecture, listen to stories about regional history, visit a pottery factory, observe traditional farming techniques, and enjoy live entertainment.
At lunchtime, join a family in their traditional house, and learn more about the food and history of this unique culture. End your meal with an authentic tea ceremony, then head back to your accommodation.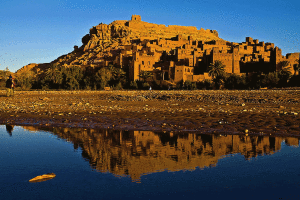 Day 9 – To Marrakesh Via Ouarzazate & Ait Benhaddou Kasbah
Travel from Skoura to your accommodation in Marrakech, a journey of about five hours. On the way, take a break in thriving and picturesque Ouarzazate. The town has been made famous by the film industry, featured in movies like Black Hawk Down, Prometheus, American Sniper, and Game of Thrones. Here, you'll have the option to tour a movie studio or visit the Musée du Cinema.
Just on the edge of this quiet Moroccan city, you'll find Taourirt Kasbah, a citadel set against the backdrop of the Atlas Mountains. Next, explore the medieval kasbah of Aït Benhaddou, Morocco's most famous kasbah and a UNESCO World Heritage Site. After leaving Aït Benhaddou, you'll wind over the Atlas Mountains via the Tizi n'Tichka Pass before joining the hustle of vibrant Marrakech. Settle into your accommodation, then see Jemaa el-Fna, the city's main square, which comes alive every evening with musicians, performers, snake charmers, games, and food stalls. Wander around the square or enjoy it all from a distance at a nearby café.Dinner and overnight at your Hotel/Riad in Marrakesh.
Day 10 –Half-Day of Guided Sightseeing in Marrakech
Experience the sights, sounds, and smells of Marrakech, known as the "Red City," on a tour led by a local guide. Start at Jemaa el-Fna Square, then stroll to a few of the best souks. You'll find the famed spice towers at Souk el Attarine and traditional Moroccan slippers at  ouk Smata. Brass, silver, and other blacksmith goods are at Souk Haddadine. But don't miss Souk des Teinturiers, where you can watch locals dyeing and hanging cloth and yarn.
Your guide will lead you to the 19th-century Bahia Palace. Enjoy strolling through the courtyard's lush gardens and admiring the stunning interiors, including intricate woodwork and ornamented ceilings. Then head to Koutoubia Mosque, the city's largest mosque. Lastly, make your way slightly out of the old town to the 12th-century Menara Gardens. Once your tour is complete, spend the afternoon wandering through one of Marrakech's most special sites: Le Jardin Secret (The Secret Garden), a recently-restored 19th-century palace complex featuring traditional architecture and many different types of exotic plants.Farewell dinner and overnight in the 16th-century and Top Class Riad / Palace
Day 11: Travel to the Coast and Explore Essaouira
Say goodbye to the Red City and travel to Morocco's west coast, following a route over vast rolling plains. Along the way, pass through an argan tree forest, endemic to this part of the world. You may even see goats perched among the tree branches, nibbling on the argan fruit!
Arrive in the laid-back port city of Essaouira, a nice contrast to frenetic Marrakesh, and spend the rest of the day as you choose. Walk the Skala de la Kasbah (the 18th-century seafront ramparts) along the coast. Designed by European engineers, old brass cannons line the walls and offer viewing access over the Atlantic. Explore the UNESCO-listed medina before making your way to the windswept beach. Then, walk back to Essaouira and enjoy a meal of fresh-caught seafood
Day 12: Guided Sightseeing Tour of Essaouira
Explore the charming and historic city of Essaouira with the help of a local guide. Start your excursion under the clock tower inside the walls of the city's medina. As you twist through the medina's wide and bright streets, covering 75 acres (30 ha), enjoy the souks, street vendors, leafy plazas, and whitewashed houses with ornate wooden doors. Eventually, these streets lead to the city's central square, Moulay Hassan Square, lined with restaurants and hotels. Nearby is the harbor, where you can watch anglers make fishing boats by hand, mend nets, and bait fishing lines. You'll also visit the 16th-century Portuguese Castelo Real of Mogador and two defensive structures, the Borj El Barmil tower and the Skala de la Kasbah.
Next, you'll explore the city's Jewish history, stopping at Haim Pinto Synagogue, a historical and religious site dating to the early 18th century. Wander through the Mellah (Jewish District and a UNESCO World Heritage Site), listen to stories of Essaouira's Jewish communities, and admire the profound door paintings and carved emblems. The other two preserved synagogues include Slat Attia and Slat Lkahal Mogador. Your guide will leave you at Essaouira Beach at the end of the tour. Walk along the shoreline, soak up the sun, and catch glimpses of surfers in the wind.
Day 13: Free Day in Essaouira
Take time to soak in Essaouira's unique atmosphere and beautiful historic architecture. The city was occupied by indigenous Berbers, Phoenicians, Romans, and Portuguese, who built its fortress and ramparts in 1506. Known for its blue and white buildings, Essaouira hosts an art-centric population, attracting a sizeable bohemian crowd for the Gnawa and World Music Festival every summer. You'll also find windsurfing and kitesurfing enthusiasts, thanks to the powerful winds that constantly blow in the bay.
You can use your free day to shop for souvenirs in the souks, sample grilled sardines at the city's fish auction (which takes place in the market hall just outside the port gates), wander along the beach, or do anything else you'd like.
Day 14: Transfer to Casablanca
Enjoy a comfortable private transfer from Essaouira to your accommodation in Casablanca, which takes about four and a half hours. You're welcome to adjust your departure time to suit your interests. You can leave a little later and spend the morning in Essaouira, or start early to have extra time in Casablanca. It's up to you!
Day 15 – Casablanca-Flight
Travel in a comfortable private vehicle from your accommodation (or a pre-determined meeting point) in Casablanca to Casablanca Mohammed V International Airport (CMN). The journey takes about 45 minutes. Your driver will ensure that you arrive at the airport with plenty of time for your flight. Have a safe and comfortable trip home or to your next destination!